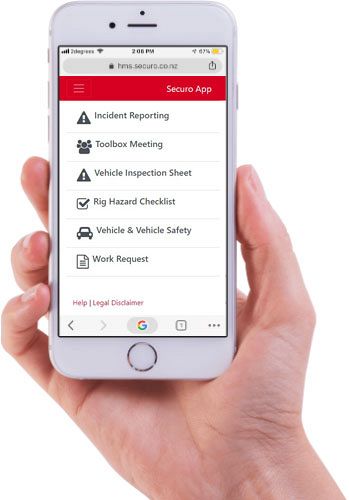 Wednesday May 3, 2023 12:36
Share your own digital Microsoft Forms using the Securo App.
Securo Online System users who create digital forms in Microsoft Forms or Jotform can now share them with their Workers from within the Securo App.
Clients have often asked for the ability to create simple, customised, digital forms that can be shared with their workers using the Securo App.
'Site Induction' and 'Vehicle Checklist' forms are popular examples.
We found that many clients are already familiar with creating forms using online software applications such as Microsoft Forms, or Jotform; which give them total freedom to easily create and customise their own forms as required.
The new 'Custom Forms' function now gives those clients the ability to 'link to' or 'embed' these same forms into their Securo App for easy access by their workers.
Creating and sharing forms this way, gives you greater flexibility as to what worker information you wish to capture via the Securo App, and you are only limited by the abilities of the form software you choose.
Custom Forms - How does it work?
The user creates their digital form(s) using one of the recommended form software applications
The user logs into the Securo Online System > App Manager > Custom Forms and connects each form using a 'link URL' and/or 'embed code' (supplied by the form software application)
Workers can now easily access their collection of forms by logging into the Securo App
The user can access and/or export the form results from the form software application they created the form in
Securo Templates
To help users get started; Securo have provided a selection of common forms on the Microsoft Forms Platform which you can copy and customise into your own account.
Form templates provided include; Vehicle Inspection, Vehicle & Safety Equipment Inspection, Rig Hazard Checklist, Contractor Induction, On Site Hazard Checklist, Injury/ Incident Report, Incident Form, Toolbox Talk, Environmental Assessment Checklist, Site Review / Inspection, and On Site Safety Audit Checklist.
To view the templates please go to the Securo Online System > App Manager > Custom Forms > Securo Form Templates
Note: If you would like a form created for you then you should contact Securo.
How do I start using Custom Forms?
Firstly; Learn how to use Microsoft Forms or Jotform and create a form.
First time users should start with Microsoft Forms which is included free with Microsoft Office on both Mac and Windows. https://forms.office.com/
Should you find that you need better functionality then Jotform (https://jotform.com/) may be a better choice for you.
Note: Please go to the Microsoft Forms or Jotform websites for Help and training on how to use each software application.
Secondly; Learn how to connect your form(s) to the Securo App.
Help, FAQ's and information on how to link and embed forms are provided within the App Manager > Custom Forms area.
Training Video: Accessing the Securo Templates for Microsoft Forms
Training Video: Embedding a Microsoft Form into the Securo App
Training Video: Embedding a Jotform Form into the Securo App
For more information please contact Securo or your Securo Consultant.